Curzon Trail: Kuari Pass Trek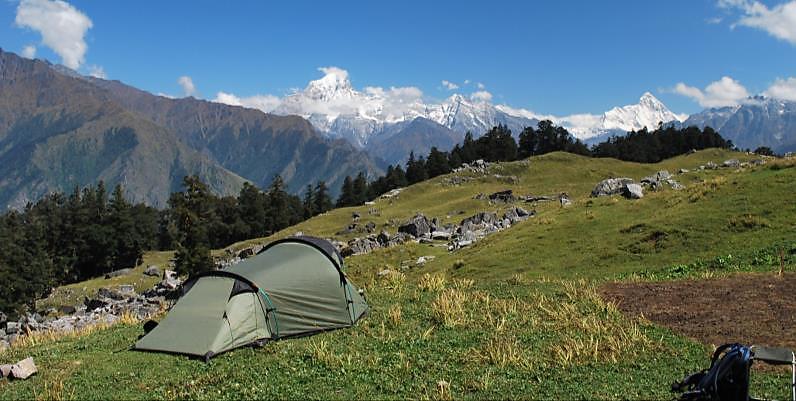 Kuari pass trekking in Garhwal part of Uttarkhand is an unique experience. Among many treks in the Higher Himalayas in Uttarakhand Kuari Pass trek often called as Curzon trail makes you experience Culture & Nature at its best.
Breath taking panoramic views of Nanda Devi group of peaks, close cultural encounters with the life style of the highlanders, their dresses and jewelry are the highlights of this trip.
Nanda Devi( 7818 mts), the beloved mountain Goddess of Garhwal Himalayas, whose territories mark one of the highest national parks in the world, abounds some of the most fascinating mountain peaks e.g. Dunagiri (7066mts.), Changbang( 6864 mts), Kalanka(6932 mts), Rishipahar(6992 mts), Trishul I and II (7210 mts & 6319 mts), Mrigthuni (6565 mts), and Bethartoli hemal (6352 mts), and some of the rare Himalayan fauna e.g. snow leopard, musk deer, monal pheasant, with great variety of birds and butterflies and rare Himalayan flora.
All this can be encountered at its best on Kuari Pass trek, which starts at Auli, one of the best ski slopes (in winters) in Asia. The entire trek goes through excellent meadows and thick forests of oak, and fir (cedar), with extraordinary views of Mt. Nanda Devi- in different moods. The trek also involves negotiating a high pass i.e Kuari (4268 Mts).
The trip starts with a 9 hours' drive to Joshimath, a main town catering to the pilgrims going to Badrinath as well as winter abode of highlanders living at the borders of India & Tibet, who spend the summers doing agriculture and tourism but come down to lower areas in extreme winters with all their cattle.
Upon arrival at Joshimath you can take a hotel or home stay and after settling your self visit the hill town market as well as the famous Narsingh temple & Shankara charya temple. Every year a unique festival of
Which are the rituals prior to the opening of Badrinath temple. This festival for the locals is now a major attraction for the people who go to Joshimath for work on different hydro power projects. The demon god "Timundya" ( Three Headed) when evoked enters a local priest who perform the ritual with lifting heavy things and eating kilos of grains and even the goat. Local since long that filming or taking pictures of this ritual will bring then bad luck & curse of the demon god.
After spending the night at hotel you take a rope way or drive to Auli. One can also trek through the upper Joshimath village enjoying the day to day life of the locals in the mountain area. If you speak Hindi you can interact with the villagers and share their life as well as experiences with them.
You can follow the following itinerary for this trek.
Itinerary
Day 01. Arrive Rishikesh : Arrive Rishikesh and transfer to our Best Located High Bank Himalyan Retreat  for  Bonfire BBQ & Dinner.Camp fire BBQ Dinner & overnight stay at High Bank Himalayan Retreat.
DAY 02. RISHIKESH\ JOSHIMATH. DRIVE: 9-10 HRS. OVERNIGHT :  HOTEL Early morning after breakfast drive to Joshimath. The entire drive is along the Alaknanda river till we reach Joshimath. Enroute stop at Devprayag, Rudraprayag, Karanprayag, and Nanda prayag, the most famous confluences of Garhwal Himalayas. Arrive Joshimath and transfer to hotel. Dinner and overnight hotel.
 DAY 03. JOSHIMATH/ AULI\ TALI.TREK: 5-6 HRS. OVERNIGHT : CAMP. Early morning enjoy the sunrise on the Nanda Devi peak. After breakfast drive to Auli. Arrive Auli and commence the trek to Tali. The entire trek today is gradual ascent. Arrive Tali and camp. Meals and overnight camp.
 DAY 04. TALI\ KUARI PASS BASE. TREK:4-5   HRS. OVERNIGHT : CAMP. Morning after breakfast trek to the base of Kuaripass. Enjoy the trek through the meadows with one of the best Panoramic views of the Himalayas. Packed lunch. Arrive & camp. Dinner & Overnight camp. 
DAY 05.KUARIPASS BASE\KUARIPASS\ KHULARA. TREK 6-7 HRS. OVERNIGHT : CAMP.  Morning after breakfast start negotiating the pass. Enjoy the panoramic view of greater Himalayan peaks .Explore the area and trek down to Khulara village. Arrive and camp. Dinner and overnight camp.
 DAY 06. KHULARA\TAPOVAN\ JOSHIMATH. TREK AND DRIVE: 4 HRS & 2 HRS.OVERNIGHT: HOTEL  Morning after breakfast trek to Tapovan village on the road head. Explore the village and have a refreshing bath in the hot springs. Later drive to Joshimath. Arrive Joshimath and transfer to  hotel for dinner and overnight stay.
 DAY 07. JOSHIMATH\RISHIKESH. DRIVE 8-9 HRS.  OVERNIGHT : HOTEL.  Return drive to Rishikesh. Lunch enroute.  Arrive Rishikesh. Tour terminates upon arrival at Rishikesh.
Transfer to Haridwar to Railway Station or Dehradun to board the train / flight  to Delhi.
ALTITUDE: JOSHIMATH:196 MTS.,  AULI:3030 MTS., KUARIPASS :4268 MTS.
BEST TIME : APRIL TO JUNE  & OCT TO MID OF DECEMBER.       GRADE: MODERATE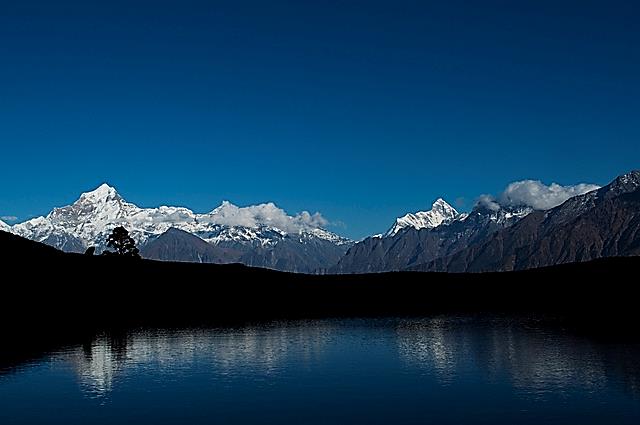 At the end of your  trip while you finish your trek you can extended and visit the Tapovan hot springs.
You can also add one more day and visit the Badrinath temple & Mana village, the last village on indo Tibetan border.
Where do I stay In Rishikesh: he best places to stay in Rishikesh is High Bank area where one can find quite a few home stays, Zostel & Hotelier . The nice and clean guest house in this area is High Bank Peasants cottage
 In case you wish to stay on the outskirts of Rishikesh you can choose a hotel in Shivpuri area, which is on the way to Joshimath and will shorten your drive a bit next morning. There are many small Eco Resorts, camps, and on the higher side Roseate, Atali & Taj. A clean budget friendly and best located Eco resort is High Bank Himalayan Retreat where you can find a nice stay and great food very close to river.
Where to Eat in Rishikesh:If you are staying in Tapovan area of Rishikesh the best food options are Nirvana Bistro in High Bank area and Rari's Café on the main road.  In the same are you have now Burger king, Dominos and Barista.
Where to stay In Joshimath: Joshimath town is very congested and it is recommended to stay little above Joshimath in Suneel village where you have some home stays as well some high end hotels.  A good home stay here Nanda Inn which is run by a trekker & Skier Santosh who can also help you with the logistics.
How do I plan my trekking trip :You can  organize your trip your self by renting or even purchasing a camping equipment that is easily available in Decathlon these days. You need a tent, sleeping bag, a sleeping may and a butane stove with a Ruck sack to carry all that.
Can I rent the camping equipment:  Yes you can rent camping equipment for your trekking  trip. There are many trekking office in Tapovan Rishikesh as well as in Joshimath from where you can rent trekking & camping equipment for your trip.
In Joshimath a good trekking company is Adventure trekking  who can help you with arranging your equipment, porters or ponies for the trek to carry your equipment, food and camping gear.
Can I book an organized trip: There are many in Rishikesh offering you fixed departure and customized trips.
In Delhi there is leading trekking company which can offer you a good fix departure trip. Aqua Terra Adventures runs fixed departure trips for most of the best treks in India.
In Rishikesh, Himalayan Adventure Holidays by Garhwal Himalayan Explorations Pvt. Ltd runs tailor made & fix departure trekking trip in Himalayas. You can visit there office " Himalaya House" in Tapovan area of Rishkesh for assistance and booking rafting trips as well.
In Joshimath:  Adventure Trekking run by Santosh has its office in Suneel and can arrange your trek in Joshimath area.
 Is there a fee for trekking:  Yes you need to get a permit for all the treks in Uttarakhand. If you are doing the trek your self you need to visit the forest office in Joshimath where you can get camping & trekking permit after paying the fees.

Blacksilver Photography WordPress