Yoga Trekking in the Himalayas
An Epic Journey – Living with the Himalayan Masters
Trekking & Yoga in the Himalayas -The Birth Place of Yoga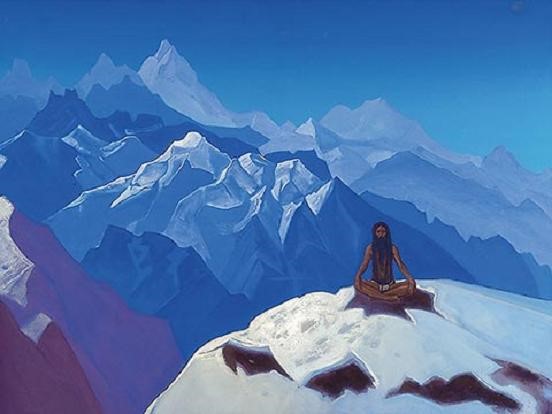 8 Nights & 8 Days trekking trip in the Himalayas, the birth place of Yoga, where from time immemorial thousands of Rishi's (Saints ) and  Yogis  have practiced Yoga & meditated  for elevating Themselves  and the society to the highest level of existence with  a purposeful human life.
Every day we start with special Sattya Yoga Sessions and later trek in the Himalayas in pure wilderness with great views of the snow covered Himalayan peaks encountering rare Himalayan flora and  Fauna.
Come and explore a new world taking you to different heights to do what Yogis have been doing since the time immemorial. 
Dates of Fixed Departure:  2023:- 29th October 2023           2024:27th April 2024
DAY 01 Arrive Rishikesh.
Report to Himalaya House, our Adventure Base office at Tapovan Rishikesh. Transfer to our peacefully located Sattya Retreat in Tapovan, High Bank Peasants Cottage for an overnight spiritual experience. Check in over cup of homemade Herbal tea.
Early evening meet the Guru Yogi and the Yogi on the trek and proceed for a 90 minutes Sattya Yoga Class. After the class enjoy a cup of Herbal tea on the terrace with the view of the Ganga coming down form the mountains and sliping gently in to the vast indo Gangetic plains.
After spending some quality time with yourself in silence enjoy home grown & home cooked organic meal with lot love & pure energy.
The day is closed after the next day's briefing. Overnight High Bank.
Day 02 – Morning wake up and after a Himalayan Herbal tea join the Guru Yogi on the terrace for a Herbal tea and another of Sattya Yoga. Yogic Breakfast.
RISHIKESH / CHEPNA DRIVE : 7-8 HOURS OVERNIGHT CAMP.
Meet the trekking Guide & Crew. After loading the bags we commence the drive to road head, Chepna. The entire drive is along the Ganga River up to Devprayag after which we enter the Alaknanda Valley following the Alakananda river all the way to Karanprayag, one of the famous panch prayags ( Five confluences). After a lunch break we take the small road to the Ghat and further to Chepna, a small village serves as road head to few of the best treks in Uttaraklhand Himalayas.
Arrive and pitch the tents. Evening tea with interaction with local school children & villagers.
Evening session of Meditation & Pranayama. Dinner & Overnight camp.
DAY 03. CHEPNA/ GHUNI TREK – OVERNIGHT CAMP
Early morning wake up with cup of pure Himalayan herbal Tea. Lay down your sleeping mattresses for a session of special Satya Yoga & meditation class in the fresh year of Himalayas, the birth place of yoga, the ancient Indian knowledge of evolving human conscious ness.
After breakfast are on the nice walk next to the river followed by an ascent through coniferous and mixed forests. The walk by a wooded ridge takes us to a village called Ramni (2550m). It is a typical Garhwal village with friendly people and attractive houses with heavy slate roofs and paved alleys surrounded by fertile fields. It is very commendable to see that this entire village is mainly run on solar power. Night stay and meals at camp at Ghuni.
Arrive Ghuni & camp. After a cup of tea and relaxation lay down your mattresses for a group mediation class to experience the exclusive vibes of the Rishis & saints lived in the Himalayas for ages.
DAY 04. GHUNI / SEMKHARAK
Early morning wake up with cup of pure Himalayan herbal Tea. Yoga Class.
This is a long but rewarding day. From the campsite you climb steeply for 1,000ft/300m on a zigzagging track to emerge on open, grassy, grazing meadows. Snow peaks begin to emerge above the forest to the north. The path continues up through forests of rhododendron, pines and oaks with more pastures for summer grazing with shepherds huts. Flocks of sheep and goats are there to keep you company as keep moving along the track. The highest point, reached in 2¼ hours from the camp, at 3,064m/10,053ft, is the Ramni Pass, also called Binayak Top. From here it is possible to make out the Kauri Pass, which we will cross on Day 8. From now on there may be a chance to see the multi-coloured monal pheasant but they are very shy, being hunted by the locals for pot. The trek is now gentle, mainly through open pastures into forests of horse chestnuts and walnut trees complete with fairy tale waterfalls.
Lastly, a zigzag downward trail will bring you down to the overnight camp at Semkherk. Arrive & Camp. Evening tea.
Group meditation. Dinner & Overnight camp.
DAY 05. SEMKHARAK / PANA TREK – OVERNIGHT CAMP.
Early morning wake up with cup of pure Himalayan herbal Tea. Yoga Class.
Day starts with a descent to the colourful village of Jhinjhi. The trail carries on down past small farms, through some woods to the spectacular suspension bridge at 1,840m/6,037ft across the Birehi Gorge, which currently is inhabited by a large number of monkeys! From here however it's a very steep climb up to 7,382ft/2,250m, where the track eases only after arduous ascent of 1 ½ hour.
After this though you can relax a bit as the path becomes almost flat and you pass under the cool shade of the rhododendron forests with long tailed magpies flitting about. There are many streams and waterfalls as the route contours round many deep ravines. If you look down to the deep gorge below you can see the landslide and the Gauna Lake, which burst and flood the whole of the Ganga Valley down to Rishikesh in 1898. After going round the head of a horseshoe valley you reach two lovely rivers cascading down under the path. From here there is a short climb to a spot called Kaliaghat, which is a good campsite near the village of Pana. It is here where we camp overnight.
Group meditation. Dinner & Overnight camp.
DAY 06. PANA / DHAKWANI – OVERNIGHT CAMP
Early morning wake up with cup of pure Himalayan herbal Tea. Yoga Class.
This is another long but spectacular day. The route traverses above the village and then starts a steep climb up into a rhododendron forest. It is a broad, well made track and after a number of small summits a Col is reached at 9,842ft/3,000m. The path now descends gently, traversing along the valley to open meadows with views across to the Kuari Pass. We continue downhill through the valley along several streams, before it plunges down a very steep and loose section, much of which has been washed away by the monsoons. At the bottom, you will see that the river has cut through a deep rocky, dramatic gorge to your right showing just how naturally scalped the entire region is. From the river, it is a very steep climb of about 3,000 feet (900 m) with a small break about half the way up to cross a large stream. A final climb brings you above the tree-line to the campsite on the large pastures where sheep and goats graze in summer, with the Kauri Pass towering above. Group meditation. Dinner & Overnight camp.
DAY 07. DHAKWANI/ KHULARA
Early morning wake up with cup of pure Himalayan herbal Tea. Yoga Class.
It is a short day today meaning that you have enough time to take breaks on the pass to simply stare at awe at your surroundings. The thrill of standing at such a height, with the cold wind hitting you across the face is a feeling that cannot be surpassed. We aim to cross this pass today so that you will have the benefit of the clear early morning the following day. For this we have to walk a bit more to gain more height, with the highest point of the trail being at a cool 4000 m high and is just half an hour from the Tali Pass ahead. Once, we have had our fill of the mountain view (which is highly unlikely) we walk down to our camp which has been set up for you across a small stream.
Meditation. Dinner & Overnight camp.
 DAY 08. KHULARA/ DHAK TREK : 3 Hours. DRIVE TO SHIVPURI OVENIGHT YOGADA
Early morning wake up with cup of pure Himalayan herbal Tea. Yoga Session
After breakfast trek down to Dhak road head. Arrive and commence drive to Rishikesh. Lunch enroute. Arrive Shivpuri and check in to Yogada. Dinner and overnight Yogada.
 DAY 09. Yogada / Check out.
Early morning nature walk in the adjacent forest with great views of the Ganges. Breakfast. After breakfast check out.
 Cost : USD 999 per person 
The package costs are inclusive of :                                                                                                                                   Twin sharing accommodation as per the itinerary.
All meals during the entire trip- from Dinner on day 01 till lunch*on day 08 .
Transportation from Rishikesh to Rishikesh by Toyota jeeps
Services of English Speaking trekking guide during the entire trip.
Portage of 01 piece of personal rucksack (10 Kgs) on the trek.
Trekking permits & fees on the trek.
Portage of camping equipment, food, kitchen equipment on trek.
All tourist taxes on the trip.
Visit to the entire place as per the itinerary.
 The Package costs Do Not Include:
Items of personal nature e.g table drinks, telephone, insurance, medical services, evacuation and services in landslides &
Unforeseen circumstances.
Riding ponies on the trek.
Services other than specified above.
Supplement cost for Single OccupancyAccommodation – USD 299 per person.
 The Package costs are :
Subject to government service tax which is at present 5 %
Nett. & non commissionable.
Valid for trekking season of 2023 to 2024  from March to November.
Number of Persons on the trek: To ensure low impact treks & personalized services Maximum number of person on this trip can go to 9 persons.
Package Tariff – The above package tariff is for standard option and covers most of important aspects such as accommodation, meals , transportation etc.
Food on the trek: We emphasize on clean and hygienic meal s on the trek. Breakfast & Dinner are full hot meals. Lunches are picnic lunches as we driving or trekking that time.
Water on the trek: we carry ample of bottled water in the jeep which can be used for the driving days. For the trek we use boiled stream water, which is equally good or some time better.
Your accommodation in Rishikesh before & after the trek: We have our own best located guest house in Rishikesh , which you can use before and after the main trek. Please visit us to get the details www.highbank.in and at www.yogadaindia.com
 Your Travel to Rishikesh – As we have a fleet of cars & jeeps, we shall be happy to provide you pickups from Delhi & Dehradun Airport. We shall also help you arrange you flight or train tickets from Delhi to Haridwar & Dehradun.
First Aid on the trek: we carry a good first Aid Kit on the trek, however it is recommended to carry your own specific requirements.
The treks are organized by Sattya Yoga and Garhwal Himalayan Explorations Pvt. Ltd. 
Garhwal Himalayan Explorations Pvt. Ltd
The pioneer Adventure Tour operator in Himalayas for individuals & groups
About us
Garhwal Himalayan Explorations is a pioneer company specialized in trekking, rafting, Yoga Retreats, & Yatra (Pilgrimage) tours in Uttarakhand. Handling maximum number of foreign and domestic tourists coming to Uttarankhand (Garhwal) Himalayas for trekking, rafting, pilgrimage, yoga retreats & special interest tours. Started in 1989 GHE has its own fleet of brand new cars, jeeps, and mini buses with latest world class rafting & trekking equipment and above all team of 55 professionals, working day & night to give you a memorable trip.
GHE has its own hotels & best located guest houses camps & Retreats, and do not sublet its clients to other operators. GHE has
● World Class Trekking & rafting equipment.
● High Bank Peasants Cottage : Best located hotels and guest houses in Rishikesh www.highbank.in
● Ganga Nature Camp – Rafting Beach at Brahmpuri.
● High Bank Himalayan Retreat On the Ganges – Eco Resort Shivpuri where luxury is blended with pure nature www.himalayanretreat.in
● Himalayan Heights – High Himalayan camp amidst thick cedar forest with breathtaking view of 180
Degrees view of the Himalayan peaks.
● Fleet of brand new cars and jeeps.
● Sattya Yoga – Retreats, Courses & teachers training. www.sattyayoga.in
● Above all -Team of dedicated experienced professionals working with the company for more than 24 years.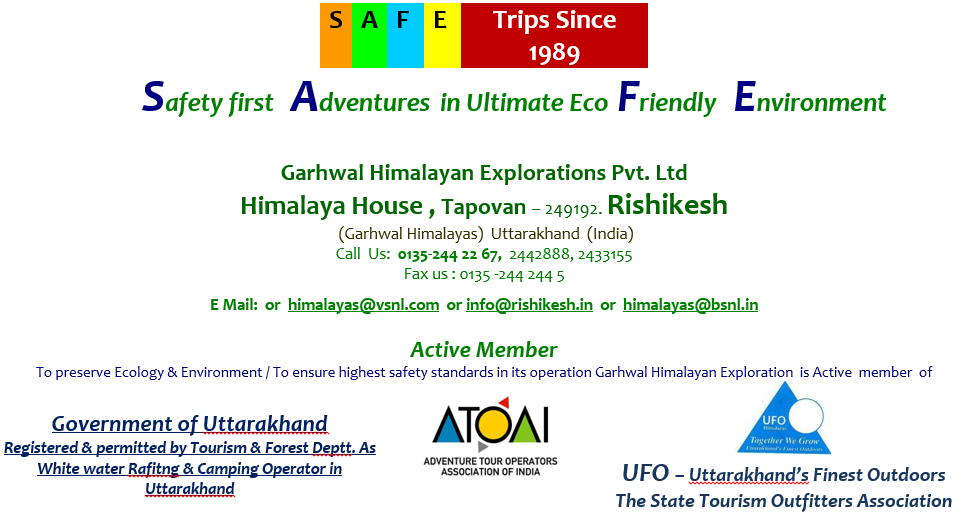 Blacksilver Photography WordPress